Hotel Copacabana is located in the nice neighborhood on Miramar. This 4 star hotel has a nice lobby and rooms with amazing ocean/pool view. Best thing is the natural ocean pool. It is an area of the ocean with pool-like walls, but natural ocean bottom and water. It's really amazing and a great way to swim. Most of it's 168 rooms overlook the sea and all are service by highly dedicated staff.

Room facilities: Air conditioning, Alarm clock radio Balcony o Terrace, Cable TV Cold & hot water, Fridge and Telephone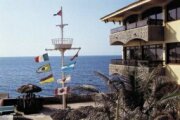 Hotel Copacabana Facilities: Fitness room, Garden Health services, Lifts Private parking, Restaurant Room Service, Swimming pool Tennis,
Tour booking desk TV in room
Address: Ave. 1ra e/ 44 y 46 Miramar, Havana.