A nice three-star colonial hotel, located on the Park Central, gateway to Old Havana. the oldest hotel in Cuba, which has just celebrated its 127th anniversary. Inaugurated in 1875, the Inglaterra is currently one of the oldest and most classic hotels in the city.
The building has been declared a National Monument due to its value as part of Cuba 's heritage. Located in an exceptional setting, in the most authentic heart of Havana. Next to Paseo del Prado, Parque Central and the Gran Teatro de la Habana, it is the ideal starting point for discovering the charms of Havana
The roof terrace has amazing views but the pavement cafe is the place to sit and watch the life of the city.
Rooms are spacious and clean.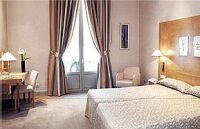 Amenities:
• Lounge
• Restaurant
• Room Service
• Meeting Facilities
• Wake Up Service
• Business Center
• Concierge
• Babysitting Service
• Dry Cleaning Service
Address: Paseo del Prado 416, esq. San Rafael, Havana