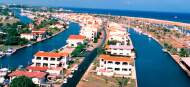 Marina Hemingway is the biggest and Best Equipped International Sport Marina in Cuba. Due to its design and shape is a reliable shelter against hurricanes and other climatological phenomenon.
Offers a wide substructure of services such as hotels, restaurants and stores, among others. Located 15 minutes away from Havana's down town.
Its waters are clean, spreaded out in four interior anti-hurricanes channels, one kilometre long, 30 meters wide and 5 meters deep, each one, being capable to give shelter to 400 vessels, including superyachts. There are 8670 meters of dockage line.
Marina Hemingway has a wide variety of bungalows and residences with 1 to 4 rooms, all with private slips, air-conditioned, bathrooms, satellite tv, local and international communications, kitchen, bar, chambermaid and other facilities.
Rooms, restaurants and general area were very clean. The restaurant prices are very good and it is quiet day and night.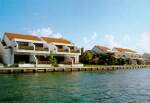 Recreation: Tennis and beach volley ball courts, swimming pool, jacuzzi, moto ski, catamaran, banana, yacht rental for fishing, scuba diving or seafaris. Other attractions for everybody who likes to spend their time outdoors.
At night enjoy the gentle sea breeze under the stars at Havana's only eco-disco in the company of good music, dance, refreshing cocktails and tropical vitality